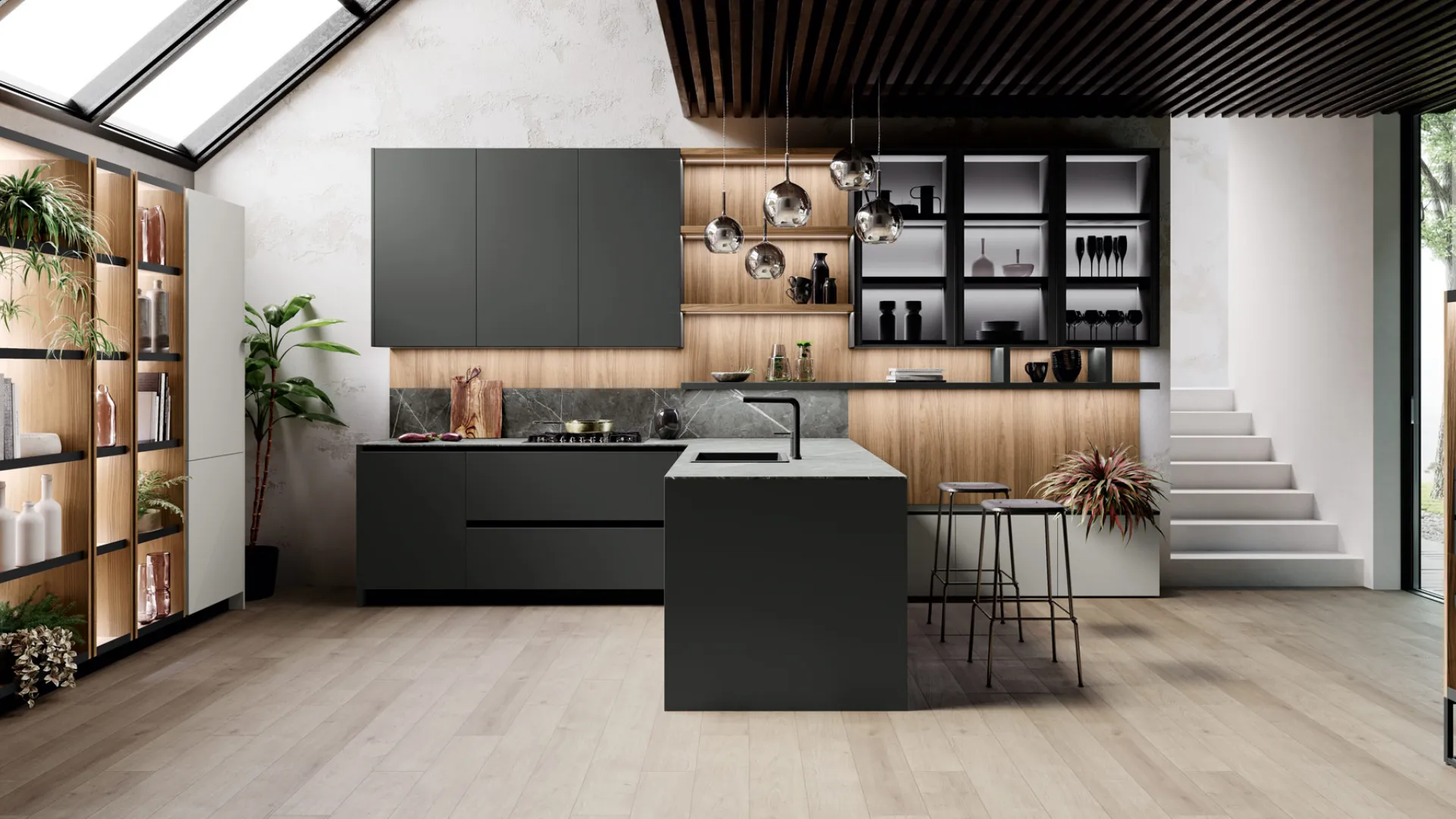 Choose with us the best materials for the kitchen top
In the store we are waiting for you to advise you in choosing the kitchen worktop: discover the most suitable materials to make it.
The best materials for the kitchen top
Do you need to buy the kitchen for your new home or are you thinking of renovating it? Before choosing it, here are some useful tips for choosing the pi&ugrave worktop; suitable for your needs and your taste. From stoneware to stainless steel, from laminates to stones and solid surfaces: there are many options available today in terms of materials for the kitchen top , beautiful to look at and highly performing.

When choosing the kitchen, the focus is mainly on the finish and color of the furniture doors, but the choice of the top should not be neglected: supporting daily activities; related to food preparation, it must be resistant, functional, hygienic and durable . Based on the technical characteristics of the various materials, which one to choose then? Here is an overview of some tops that you can find combined with the kitchens we sell in our shop in Cirimido , in the province of Como. We look forward to giving you the best advice in your choice!
Kitchen worktop in marble-effect porcelain stoneware and more
One of the latest trends in kitchen furniture is the porcelain stoneware top , which allows for a modern and elegant environment with impeccable technical characteristics . The large-format ceramic slabs that are used for the tops perfectly recreate the effect of natural marble and can also be used to create washbasins and backsplashes, for a continuity; stylistics with an elegant effect.

Not just marble: porcelain stoneware allows you to choose your favorite look for your top, even between concrete, stone and metal effects. Extremely resistant and water-repellent material, stoneware resists scratches, stains, acids and sudden changes in temperature. On the stoneware top you can work directly or place pots by removing them from the burners without fear of damaging it.
Fenix, an intelligent material for the kitchen top
The Fenix&reg is made up of new generation acrylic resins ; , which, thanks to nanotechnologies, allows the creation of opaque and anti-fingerprint surfaces for the soft-touch top . È a perfect material in the kitchen, becauseé resists scratches, abrasions, acid solvents, heat.

With the Fenix® sinks with integrated basin in the top and coordinated backs can be created. It does not require any particular maintenance: to clean it è a cloth moistened with hot water and a normal degreaser is sufficient. With an iron and a damp towel, on the other hand, the surface is restored in case of superficial micro scratches, as we show you in the video.
## videoa ## y2jtNpL6n_k ## videoc ##
Infinite customizations for the kitchen top in Dekton
A worktop very resistant to scratches, stains, high temperatures and UV rays, the one made of Dekton , a mixture of glass, innovative ceramic materials and quartz. A very compact and therefore hygienic material, which remains stable over time and which can take a toll; be customized in thickness (from 4 to 30 millimeters) and in formats (the large slabs guarantee visual continuity).
The steel top, as in professional kitchens
L& # 39; Professional stainless steel has long since found its space even in domestic kitchens and is perfectly suited to modern or classic models. L& # 39; stainless steel guarantees the kitchen top a great resistance to corrosion and impacts. Easy to clean but also dirty if we forget to dry the water halos, it allows you to integrate sink and hob without the junction points being visible.