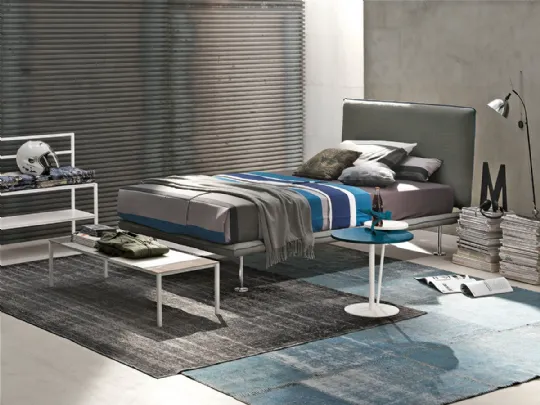 Bravo-Tommy
In the store you can touch with hand the different Tomasella fabric solutions, among which you will also find padded half-length models. With the three-quarter beds in Tomasella fabric, including this high-quality model, you will have in your bedroom a beautiful and welcoming piece of furniture.
Chamonix Square and Half
The furnishing proposals in fabric signed by the well-known brand will satisfy you as they are able to organize the spaces embellishing them, with functionality and style. The Chamonix Square and Half Target Bed in fabric can be placed in a bedroom of any kind, organizing the spaces combining charm and class.
Darwin Piazza and Half
The sleeping area must be fully furnished so that you can ensure a serene daily life and create a relaxing setting. The Darwin Piazza and Mezza bed in fabric guaranteeing comfort: design with us an elegant and refined environment that reflects your personal style.
Grace Piazza and Half
The Grace Square Bed and Half of Target Point in wrought iron will find a room of any kind, organizing its spaces combining charm and class. During the purchase of the right type of bed, carefully evaluate its measurements, finishes, shape and its particular style compared to the rest of the furniture.
Sommier Piazza and Half
The Bed Sommier Square and Half of Target fabric can be placed in a sleeping area of all sorts, ognaizzandola best conjugating charm and sophistication. Visit us in our showroom and you will be able to see for yourself an infinite number of modern single beds of the Target Point brand.
Metr
The double beds and padded design of the Doimo Cityline brand will guarantee you total relaxation every night, full comfort, warmth and welcome. We present a diversified series of upholstered beds to a square and a half for all the requests related to rest, in precious materials and resistant over the years.